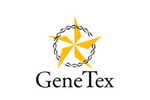 GeneTex Inc
GeneTex Inc
Established in 1997 by a group of renowned scientists, GeneTex's corporate mission remains clear :
"We strive to serve and accelerate life science research by creating essential biomedical reagents where quality can be found in every vial "


While commercial polyclonal and monoclonal antibodies have driven progress in science and medicine since their introduction,the generation of reliable antibodies remains an essential goal in the quest for data accuracy and reproducibility. On the forefront of high-quality antibody manufacturing, GeneTex has now successfully incorporated recombinant monoclonal antibody technology into its product development platform. This technology has numerous well-documented advantages, with consistency of performance being of paramount significance. GeneTex's capability in this area enhances its position in the research community and the biotechnology industry and spearheads its efforts to provide the most trusted antibody products available. Our commitment, to provide our customers with dependable reagents and to drive life science research, reflects the philosophy and approach we employ when we manufacture our products. Through extensive study, development, and stringent testing, we have produced and validated a comprehensive collection of antibodies and research tools that researchers use every day to expand the limits of biomedical knowledge.
Quality



With a 20-year history of quality results, GeneTex sets itself apart from other antibody companies by taking the necessary steps to properly validate our antibodies. Antibody validation remains an industry-wide challenge with ramifications that can impact progress in the life sciences and medicine. At GeneTex, product reliability is our primary concern. Stringent validation protocols have been established to test our antibodies for various applications, including WB, IP, IHC, IFA, FACS, and ELISA, using cell lines with known target protein expression levels and a diverse array of tissue samples. We know the importance of replicating results, so quality consistency between lots is maintained confidently through a combination of pre-qualified individual lots, dominant clones, and thorough quality control.
To know more please visit : GeneTex