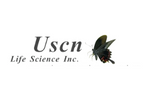 USCN Life Sciences
Wuhan USCN Business Co., Ltd. is a subsidiary supporting enterprises of Cloud-Clone Corp., formerly Uscn Life Science Inc.
CLOUD-CLONE CORP. (CCC, USA), a biotechnology company headquartered in Houston, is the owner of the trade mark "Cloud-Clone".
Cloud-Clone Corp. (CCC, Wuhan) is located in Export Processing Zone. Its quality management system is certified with ISO 9001:2008 and ISO 13485:2003. The featured products are reagents for life science research. 75% of the customers come from USA and Europe. Based on profound accumulation of technology and huge resource of primers, cDNAs, plasmids, hybridoma cells, as well as semi-products of detection reagent, CCC can provide 11,000 proteins, 19,000 antibodies and 7,000 immunoassay kits with short lead time.
The Protein Center has four production platforms, including polypeptide synthesis platform, small-molecule modification platform, natural protein extraction platform, recombinant protein expression and purification platform using prokaryotic (E.coli) and eukaryotic (yeast, baculovirus or mammalian cells) expression systems.
The Antibody Center has established a high-throughput technology platform for monoclonal, polyclonal and cloudclonal antibody production.
The Preparation Center focuses on assay kit development and production. At present, its main products include ELISA kits and CLIA kits.
The Detection Center is responsible for quality control of all the products, including proteins, antibodies and assay kits. All Cloud-Clone products are inspected by a three-level quality control system, including raw-material QC, semi-finished product QC, and end-product QC.
Cloud-Clone Animal INC. (CCA) owes government certified feeding facility with total area of 1200 sq.m., including 507 sq.m. of SPF area that consists of 220 sq.m. for breeding, 287 sq.m. for feeding. The animal house at Zhenhua Road can feed captive animals, like goats, horses, cows, pigs, chickens, dogs and other big experimental animals. All the animals are raised by professional staff and mainly used in antibody preparation. On account of the animal resource, CCA can provide thousands of animal models, involved in human disease animal models, knockout animal models and transgenic animal models. CCA also provides serums, blood cells, tissues and organs of animals in healthy or disease status, these products can be used as quality control of assay reagent. Meanwhile, hundreds of primary cells can be separated using these materials. CCA can offer several animal experiment services, including animal feeding, conservation of strains, animal ethology, animal imaging and other animal experiment. CCA also offers cell-based experiment such as cell culture, transfection, proliferation, infection and apoptosis. Furthermore, CRO service for drug discovery including drug screening, pharmacokinetics, toxicology and pharmacology are provided.
Cloud-Clone Diagnostic Reagents Institute (CCD), located in Zhenhua Road, is the research and pilot production base for IVD reagents. CCD is also the original manufacturer of core biological reagent raw materials. CCD is committed to provide high-quality IVD reagent raw materials, pathological antibodies and food safety testing reagents.
To know more please visit : USCN